Hair Salon in Phoenix
Focal Point Salon & Spa is proud to offer the best in modern hairstyling and care at our exquisite full-service salon. From the moment you arrive to the moment you leave, our welcoming staff is here to pamper you. Whether you are seeking styling, hair extensions, treatments, color, or even just a cut, your hairstylist has been trained to exceed your wildest expectations. The hair artists at Focal Point Salon & Spa have experienced in the latest trends from Balayage, Ombre, Brazilian Blowout to Hair Extensions.
Cutting Edge Styles
Has your current look seen fresher days? Both women and men rely on the team at Focal Point Salon & Spa to keep their hair in impeccable shape. Our friendly staff is trained to stay abreast of the latest trends and styles, whether you are looking for a traditional, edgy, or chic cut.
Experience the individualized attention that is the signature of our salon. First, your hairstylist will analyze the texture, thickness, and condition of your hair. Then, they will listen to your ideas and wishes for your desired cut. Your aspirations combined with our expertise will produce that perfect look for you.
Exceptional Color
Why not pair your fabulous new haircut with some color, too? We can restore your natural color or give you the transformation you crave. In addition to more traditional hair coloring services—such as full head, highlights, and root touch-ups, our colorists are well versed in modern techniques such as ombre and balayage. If you are seeking something fun or even slightly shocking, pay a visit to our color bar to find the hue that will delight you.
Root Retouch
Don't let your root color give away your natural hair secret! Focal Point Salon & Spa uses professional-grade products to cover those roots and keep you looking natural.
Lightener
Lighten your hair to match in a way that flatters you and our Focal Point experts will suggest how! We also only use professional-grade products to achieve the absolute best results.
Highlights
Hand-painted pieces of sun-kissed tones give a natural look with minimum upkeep. So If you're looking to go a bit brighter, highlights might be the answer! Highlighting is a hair color process that uses foils to brighten certain sections of your hair. It's a way to create different hair colors that blend together naturally, and it works as a heat conductor to help quicken the coloring process without further damaging the hair.
Balayage
Balayage is the freehand painting technique originated in France in the 1970's. Balayage means "to sweep" in France. What sets it apart from traditional hair foil is the application is by hand versus foil. Our Focal Point hair color specialists use a sweeping motion throughout the hair giving it a very blended finish with no regrowth lines which helps the growing out process to be less painful between hair appointments. Balayage can go from very subtle to a dramatic look depending on the client's preference.
Style Ombre
Ombre is a two-toned color technique that is blended from one shade to the next giving the Ombre a shadow effect. Ombre in France means Shadow. The technique usually has the roots of the hair a darker shade whereas the ends of the hair being lighter, giving it a beautiful contrast!
Lightener Retouch
This process lightens the hair which means to open up the cuticle of the hair and remove some of the pigment. Focal Point Salon & Spa uses professional-grade products to achieve the best results.
Color Correction
Color correction is a multiple-step process to get you to your desired color. The Focal Point Salon & Spa team will consult with the guest to understand the history of products used and develop a plan to get the guest the results desired. These situations are typically charged at an hourly rate.
B3 (Brazilian Bond Builder)
B3 utilizes a specifically engineered copolymer combined with a high-purity targeted delivery system. This scientifically advanced one-step system, re-attaches and builds the bonds that make up the cellular membrane complex. This helps prevent the loss of cuticle and cortex cells responsible for supporting the inner structure of the hair. This breakthrough technology dramatically reduces breakage and helps prevent damage during color services, improving the overall integrity of the hair while prolonging color retention and vibrancy between appointments.
Brazilian Blowout
A Brazilian Blowout is a professional smoothing treatment that can improve the condition of your hair by creating a protective protein coating around your hair to eliminate frizz and give radiant shine. Brazilian blowouts are great for all hair types: whether curly, kinky, coily, frizzy, fine, damaged, or coarse we got you covered. It is one of the most effective and innovative treatments on the market today. Results are frizz free smooth hair for up to 12 weeks.
Split End Treatment
A deep conditioning treatment that revitalizes and puts moisture back into the cuticle smoothing any ridges there may be. This is a great solution after any coloring process or if you are looking for more shine. Focal Point Salon & Spa uses professional grade products to achieve only the best results.
Gloss & Shine also known as a color glaze or glazing treatment, is used to add more shine and remove any extra frizz that may be present in the hair putting it in a manageable condition. You can count on Focal Point Salon & Spa to us only professional grade products to achieve the best results.
Men's Hair Color and Men's Haircut
Focal Point's hair salon uses professional-grade products to achieve the best results. Our stylists are trained in Men's Hair and men's grooming. Their cutting, clipping and grooming expertise is of the very highest standard giving you the sharpest of cuts. Hair relaxer is a lotion or cream that makes the hair easier to straighten and manage. It reduces the curl by breaking down the hair strand and chemically altering the texture. Those who decide to get their hair relaxed typically have curly hair, who want it to be straight without any frizz. The results vary depending on your hair type but usually, a hair relaxer will leave your hair straight for about six to eight weeks. You can be assured that Focal Point Salon & Spa, uses only professional-grade products to achieve the best results.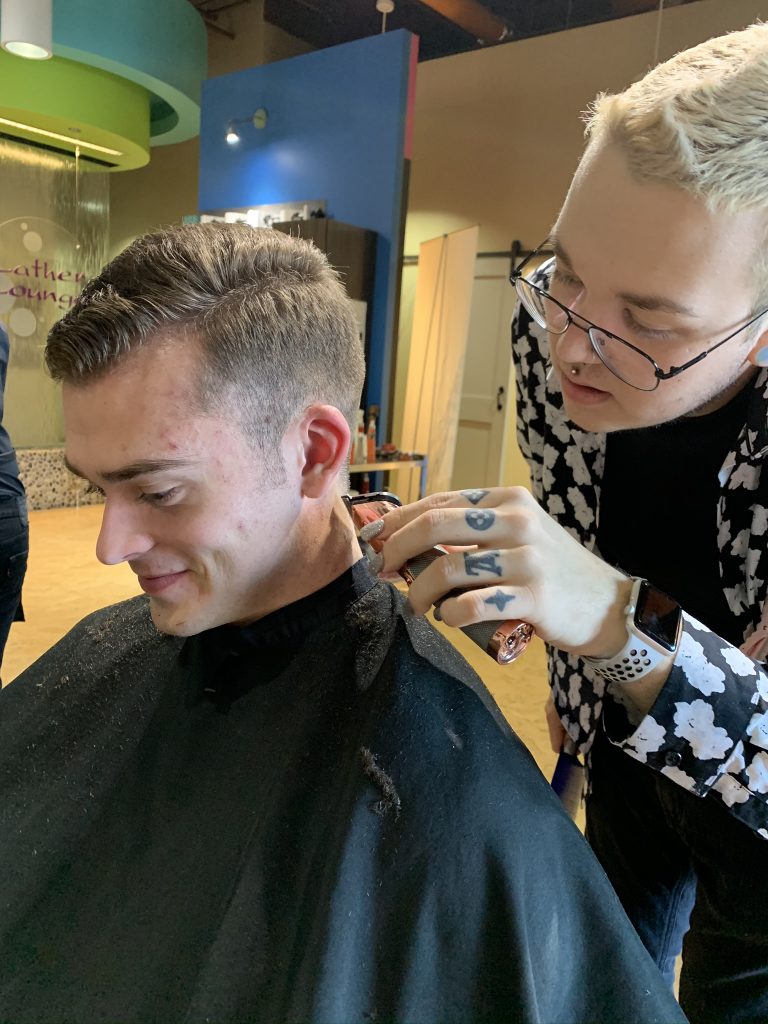 Special Occasions
ENJOY THE BEAUTY OF PROFESSIONAL HAIR & MAKEUP THE FOCAL POINT SALON AND SPA EXPERTS WILL HELP YOU PREPARE FOR YOUR SPECIAL EVENT! ​
Whether it's your wedding, prom or a holiday party, Focal Point Salon and Spa will help you get G-O-R-G-E-O-U-S! We will provide you with a full range of on-location beauty services to prepare you for your special event. ​
Prior to your big event, our professional makeup artists and hairstylists will talk to you, or your event party, about color palettes you like and any facial features you want to highlight as well as the type of up-do or hairstyle you desire. Enjoy the benefits of hiring our professional team including:
Matching colors to your complexion
Using professional quality products
Removing the stress of applying it yourself
Creating a flawless look that will last
Eliminating the worry of not being camera-ready