The Focal Point Salon & Spa Staff
Have you had the pleasure of a truly wonderful and relaxing salon visit? At Focal Point Salon & Spa, we value our clients greatly. Therefore, we select our staff carefully to ensure you will have the highest treatment possible. Our experienced professionals have the talent, skill, and education necessary to give you the best hair look on a consistent basis. Your new stylist will soon become your trusted advisor. If you feel you may benefit from some hair treatments, we can offer advice and suggestions, using professional-grade products on your hair at all times.
Dr. Michael Desvigne MD, FACS
Medical Director
Dr. Michael N. Desvigne is a plastic and reconstructive surgeon specializing in cosmetic surgery, Dr. Desvigne is board certified in plastic surgery, general surgery, wound care and hyperbaric medicine. In his cosmetic surgical practice, Dr. Desvigne performs most procedures with local anesthesia to minimize costs and avoid the additional risk of general anesthesia.
Dr. Desvigne is a fellow of the American College of Surgeons and a member of the American Society of Plastic Surgery (ASPS), the American Society of Aesthetic Plastic Surgery and the Arizona Society of Plastic Surgeons.
In his spare time, Dr. Desvigne refuels by running, swimming, boating, cooking, reading, and writing, and he gives back by performing humanitarian missions alongside his wife. Dr. Desvigne is the owner of CoolBody Contours™
Angela
Nurse Injector
Angie has been a nurse for 20 years specializing in Labor & Delivery & Women's Health and certified in dermal fillers & neurotoxins. Angie prides herself on having a good clinical eye for how to achieve a patient's goals, excellent judgment, and a "soft touch" in performing neurotoxin and fillers. As a Labor & Delivery charge RN, she is knowledgeable and compassionate. As a nurse injector, Angie combines her knowledge of facial anatomy, caring nature, and clinical training in cosmetic injections to achieve beautiful non-surgical results for our patients in a safe, comfortable setting. Angie has a strong belief that cosmetic treatments should produce natural-appearing results.
Melissa
Nurse Injector
Melissa has been a nurse for 22 years working in the NICU for a majority of that time. In the last 2 years in addition to that, she jumped into the aesthetics world and loved it. Melissa has a passion for aesthetics and feels it is an art to enhance and add to your natural beauty! Melissa's skills allow her to utilize and deliver amazing beautifying treatments such as IPL's, laser hair removal, Kybella, Botox, my favorite…fillers (especially lips), and peels. When she is not working at the spa, she is a busy mother of 4, working on her masters and working at PCH.
Arora
Hair Health Expert/Stylist
Arora graduated from the East Valley Institute of Technology at the same time as she graduated High School, can you say "overachiever" :). She also completed an extensive year-long apprenticeship program. Her love for the industry was driven from prior self-image issues and she wanted to have the ability to provide an outlet of beauty to her guests. Arora's expertise is in doing creative color, updos, highlights, balayage, and platinum hair. Arora believes in working with her guests to educate them on all possible options and developing a bond for great results and a great relationship.
Colette
Aesthetic Nurse Specialist
Colette is our Aesthetic Nurse Specialist whose skill set and compassion is undeniable. Bringing over 23 years of nursing expertise, Colette worked with a nationally renowned pediatrician as well as doing private hospice care. She has a passion for aesthetics and has developed a profound understanding of the latest advancement in products, procedures, and techniques available. She has trained under one of Arizona's best Cosmetic Surgeons and continues to strive to perfect her skills. She is certified to administer Neurotoxins and Dermal Fillers and has received special training in Radiesse, Voluma, Vobella, Juvederm, Vollure, Restylane, Restylane Silk, Restylane Defyne, Restylane Refyne, and Restylane Lyft (for both face and hands). She is a Certified Radiesse Hands Injector and also certified in Sculptra. Colette also received her certification in vaginal rejuvenation by Viveve University. If you are looking for someone who not only is exceptional at what she does, but will give you that confidence you have been longing for, you have found your match!
"We are all individual works of art. My focus is to understand your concerns, provide you with various options, and together come up with a plan focused on achieving your desired outcome to help you look and feel your best."
Rachel
Stylist
Rachel has been licensed Cosmetologist since 2012 and has had a knack for styling hair ever since she gave her sister her first bang "trim". She started her career in California but decided she needed a new challenge and found herself here in Arizona where she reignited the passion she discovered years prior. Rachel specializes in color and loves giving guests that California blonde look with an Arizona twist. Guests are more than just spots in her day; guests become friends, and like all friends, they eventually become like family. Rachel strives to build strong relationships with every guest in her chair and will you never see her shy away from a challenge.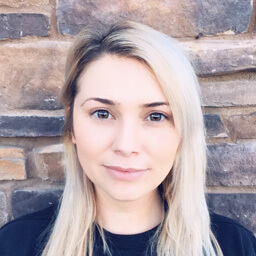 Elle
Medical Aesthetician/Guest Relations
Elle was born and raised in Arizona and graduated from The Southwest Institute of Natural Aesthetics as a licensed Medical Aesthetician, Certified Laser Technician, and Laser Safety Officer. After providing services for guests around the valley for over 10 years, Elle decided to take the jump into business and guest relations. In her new role, she utilizes her customer service skills to ensure that quality and service exceed customer expectations. Elle loves making personalized connections by striving to build trust and strong positive long term relationships all while promoting customer satisfaction and loyalty. Elle is dedicated to the continued progression in the health and beauty industry and is truly passionate about helping everyone feel and look their very best.