Cosmetic Injectables & Fillers in Phoenix & Scottsdale
Injectables
Injectables are one of the most popular, quick skin and body treatments available. We offer four powerful types of effective solutions depending on what you are trying to accomplish!
Botox and Dysport
If you are looking to reduce creases on the forehead and frown lines between the eyebrows, Botox and Dysport should be a procedure to consider. Overall Botox and Dysport are very similar. Both are a type of botulinum type A used to relax the muscles that cause frown lines and other overactive muscles of the face, like forehead lines and crow's feet. It's like comparing apples to apples. There's a difference between a Fuji apple and a Gala apple, but they are still both apples. Dysport is a smaller-sized molecule so it's measured differently than Botox. Both have been in use for years (Dysport in Europe only until recently) and have a high safety profile. Both can be used on other parts of the face and body, and should be injected every 3-4 months and results can vary.
Dermal Fillers
Dermal fillers help to diminish facial lines and restore volume and fullness in the face. As we age, our faces naturally lose subcutaneous fat. The facial muscles are then working closer to the skin surface, so smile lines and crow's feet become more apparent. The facial skin also stretches a bit, adding to this loss of facial volume. Other factors that affect the facial skin include sun exposure, heredity and lifestyle. Results can vary.
Dermal fillers can do the following:
Plump thin lips
Enhance shallow contours
Soften facial creases and wrinkles
Improve the appearance of recessed scars
Reconstruct contour deformities in the face
Decrease or remove the shadow of the lower lids
Dermal fillers can be very helpful in those with early signs of aging. At Focal Point Salon & Spa, we carry all the major fillers like Restylane, Restylane Lyft, Restylane Silk, Restylane Refyne, Restylane Defyne, Juvederm Ultra, Juvederm Ultra Plus, Vollure, Voluma XC and Vobella. Results are seen almost immediately!
KYBELLA
If you are looking for a nonsurgical treatment for extra dietary fat (like a double chin), KYBELLA® should be a procedure to evaluate. The active ingredient in KYBELLA® is synthetic deoxycholic acid. Deoxycholic acid is a naturally occurring molecule in the body that aids in the breakdown and absorption of dietary fat. When injected into the fat beneath the chin, KYBELLA® destroys fat cells, resulting in a noticeable reduction in fullness under the chin. Once destroyed, these cells can no longer store or accumulate fat, so further treatment is not expected once you reach your desired aesthetic goal. Focal Point can combine this treatment with a skin tightening treatment to ensure your final goals are achieved.
Collagen Replacement
Collagen replacement is a process that helps with volume loss, wrinkles and deep lines in the body. At Focal Point Salon & Spa, Sculptra is quickly becoming one of the most popular procedures to give a patient a natural, softer look without the dermal fillers being used. In addition, Focal Point Salon & Spa are experts in using Sculptra in the buttock to help you with volume loss or if you're looking for more curve. Sculptra helps stimulate your skin's own natural collagen production to help restore its inner structure and increase facial volume that has been lost to aging. Sculptra is a one-time treatment regimen of up to four injection sessions that are scheduled about four weeks apart. Results can last up to 2 years and results can vary.
At Focal Point Salon & Spa, we have the answers to all your skin and body needs.
Dreaming of plump cheeks or full lips?
Some people have them naturally, while others need a little help from our Focal Point experts with dermal fillers. Dermal fillers offer a variety of benefits to individuals who want to reverse the signs of aging. Without the need of surgery, this injection treatment can enhance many areas of the face including your cheeks and lips, refreshing your overall appearance.
What are Dermal Fillers?
Dermal fillers, also known as derma-fillers or injectable implants, soft tissue fillers, or wrinkle fillers are medical device implants approved by the Food and Drug Administration (FDA) for use in helping to create a smoother and/or fuller appearance in the face, including nasolabial folds, cheeks, and lips. At Focal Point Salon & Spa, we use the latest injectable treatments that are long-lasting and designed for subtlety.
How Long do Dermal Fillers Last?
Depending on the type of filler you choose, the effects can last anywhere from six months to two years; for semi-permanent or permanent fillers, the effects can last up to five years and there are reports of even longer-lasting results.
Are Dermal Fillers Safe?
The gel-like fillers, which have become hugely popular in the last few years, are injected into the face to smooth away wrinkles or plump up features.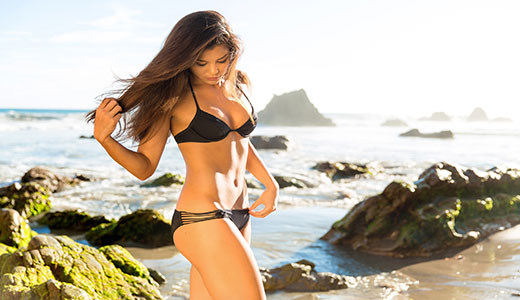 Sculptra
Sculptra® works subtly and gradually over time for a more youthful-looking appearance. Unlike hyaluronic acid (HA) fillers, Sculptra Aesthetic helps stimulate your skin's own natural collagen production to help restore its inner structure and increase facial & butt volume that has been lost to aging. Sculptra Aesthetic is intended for use in people with healthy immune systems as a one-time treatment regimen of up to four injection sessions that are scheduled about three to four weeks apart. Sculptra® is injected beneath the skin at the area targeted for correction and has numbing agent included. The results are not seen immediately but over time with results showing as soon as 4 weeks.
How it works in the Face
Focal Point experts use Sculptra to facial fat loss, a condition that leads to visible imperfections, such as:
Nasolabial folds
Sunken cheeks
Hollow temples
Contour depressions
How The Butt Lift Works
The buttocks are numbed to prevent discomfort and iced to reduce swelling. Patients will notice an immediate change in appearance – this is due to the product, but indicative of the final results.
Desired results usually require 2-4 treatments, spaced at least 3 to 4 weeks apart. As the Sculptra works, you will begin to notice a change to your posterior. Your augmented buttocks will appear fuller than before, enhancing your natural curves. Each Sculptra treatment can be completed within one hour
Leave your derma fillers to a Focal Point professional to ensure long lasting beautiful results!