A go-to Scottsdale salon for professional hair care, Focal Point Salon & Spa is well known in the Phoenix Metro and local communities for the raw creativity and trendsetting style. Our crazy-talented stylists will connect with you on a personal level, using their creativity and skill to envision a natural, ready-to-wear style that embraces your individuality and lifestyle. We strive to have a fun, uplifting, friendly atmosphere with some of the most professional hair designers around. When in our salon, you'll be treated with great service and an amazing experience. We give thorough and expert consultations before the start of your service and you'll know exactly what to expect and what you're getting before the start of your service.
Focal Point Salon & Spa offers a wide range of services including blowouts, haircuts, highlights, creative colors, balayage and Brazilian Blowouts. If you are looking to add something special to your hair, Focal Point Salon & Spa offers a variety of Babe extensions from Tape ins, Fusion, Microbeading, Hand Tied Wefts (NBR) and Halo's.
We value the condition of your hair, not just the appearance.
Superb Experienced Staff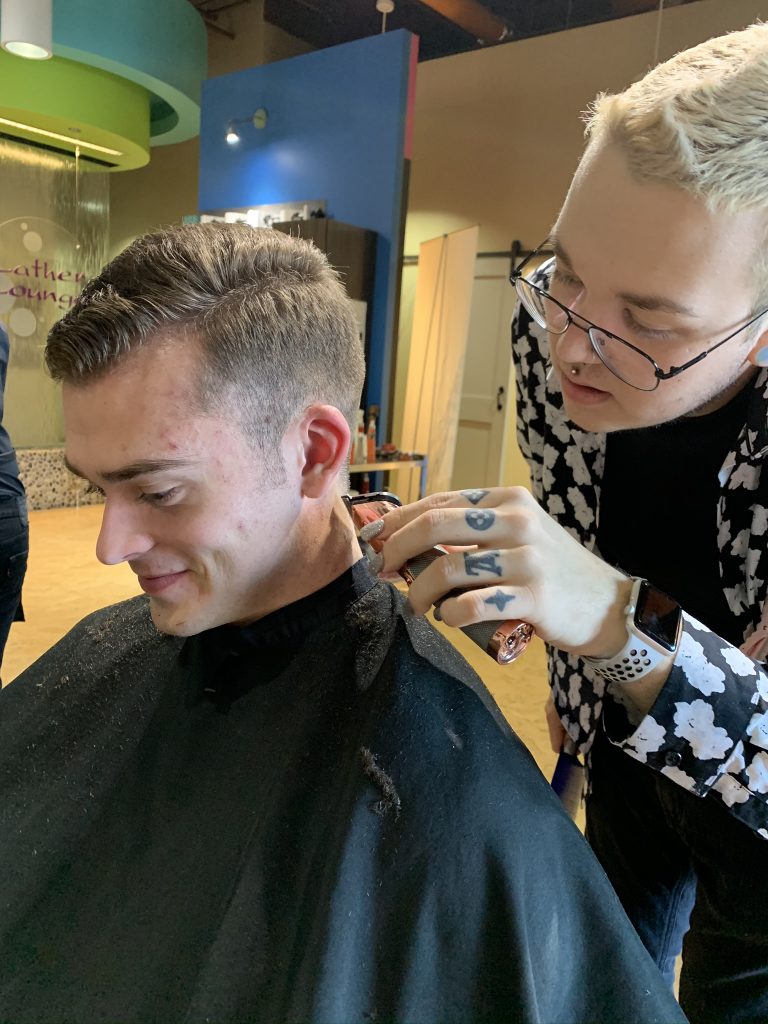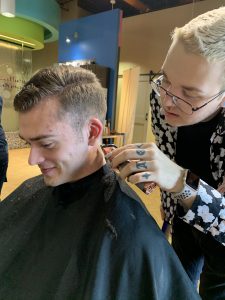 Have you had the pleasure of a truly wonderful and relaxing salon visit? At Focal Point Salon & Spa, we value our clients greatly. Therefore, we select our staff carefully to ensure you will have the highest treatment possible. Our experienced professionals have the talent, skill, and education necessary to give you the best hair look on a consistent basis.
From the moment you arrive for your first appointment at our Valley salon, you'll realize that there's something decidedly different about Focal Point. We'll match you with a stylist that has the specific knowledge and skill to bring the best out of your hair, and you'll never have to worry about who will be caring for your hair when you visit – because we'll always make sure you're scheduled with the stylist you already know and love. Your new stylist will soon become your trusted advisor. If you feel you may benefit from some hair treatments, we can offer advice and suggestions, using professional grade products on your hair at all times.
At Focal Point Salon & Spa, we believe that a stylist should be a part-beauty confidante and part-industry expert, a friendly face that you can always trust to do what's right for your hair. The relationship between a guest and their stylist is a special one – after all, who else can you go to for a serious "hair therapy" session that leaves you feeling great? Instead of upselling you on expensive services and products, your Focal Point hair expert is here to guide you through the process of achieving your dream hair. Not only will we work with you to heal your hair from damage, but our tailored approach means that every decision is made with your hair health – and beauty – in mind.
A One-of-a-Kind Head Spa with the Ultimate in VIP Treatment
There's nothing quite like treating yourself to a day at the spa, relaxing with full-body massages, facials, and more. But have you ever thought about why one of your most important features – your hair – gets left out of all the self-care fun at the spa? After all, even if you have glowing skin and a bikini-ready bod, lackluster locks can really knock your confidence down a few notches.
When we founded Focal Point Salon & Spa, our mission (Live the Best Version of Yourself) was to offer head-to-toe beauty under a single, stylish roof. With that goal (and our extensive industry expertise) in mind, we were inspired to create something that no other Phoenix salons can offer: an innovative head spa that makes it easy to target your hair concerns at the root.
As the first of its kind in the United States, the Focal Point head spa combines medical aesthetics and cosmetology to promote a healthy, thriving scalp. We analyze your scalp on a microscopic level, pinpoint specific issues, then deliver a powerful, customized treatment. The result? A nourished, healthy scalp that sets the stage for optimal hair growth, volume, and appearance.
Lather Lounge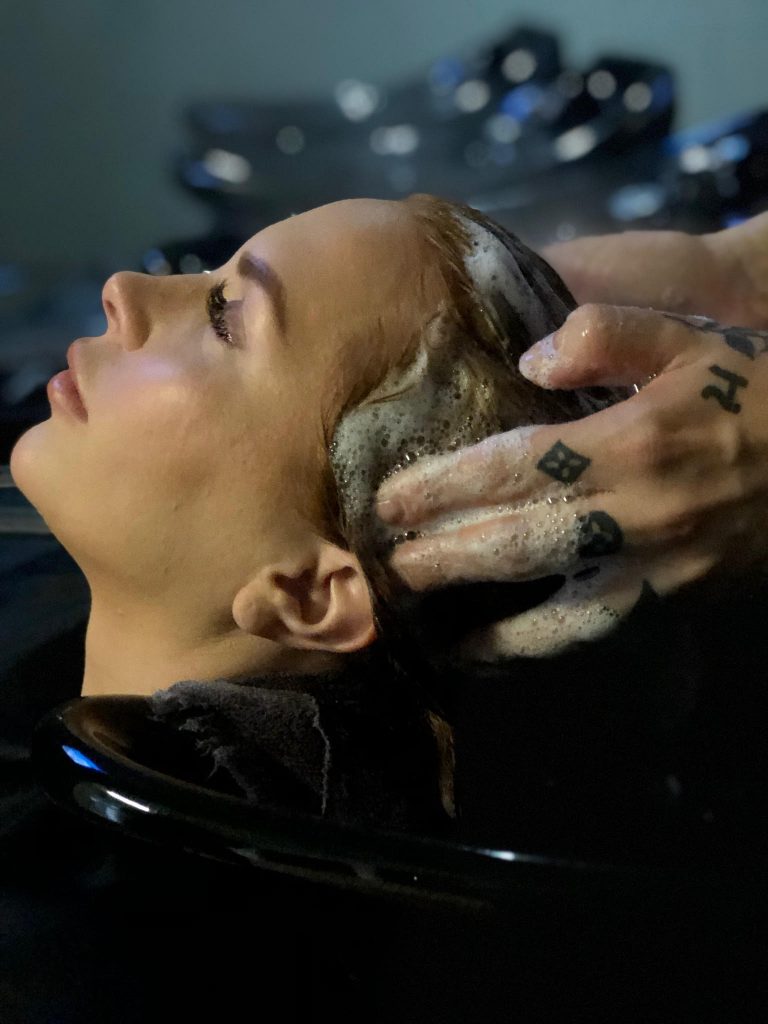 One of our guests favorite features is the Lather Lounge where they can escape the outside world and relax during the hair wash process.
In addition, the color bar has the latest colors on the market to ensure every guest's wishes are exceeded.   Focal Point Salon & Spa's hair salon is conveniently located in Phoenix/North Scottsdale between Desert Ridge and Grayhawk, in the Whole Food's shopping center.
And because every hair product that comes in contact with your hair has been specifically selected to support your unique hair goals, you'll emerge from the Lather Lounge with soft, silky hair that's perfectly primed for the next step.
Cut, Color, and Treatments
Sure, there's plenty to say for natural beauty – but why not take full advantage of our cut, color, and hair treatments to take your best features to the next level? Whether you prefer a sassy pixie cut, an edgy and modern bob, or long, mermaid-inspired waves, the talented stylists at Focal Point Salon & Spa can make all your hair dreams a reality. Our stylists are passionate about honing their craft, which is why they spend so much time keeping up on the latest cut and color trends, as well as the newest hair care treatments.
Our color bar is stocked with a massive selection of the best hair color in the industry, and we're constantly updating it with new formulations and shades. Focal Point partners exclusively with the Goldwell brand, giving guests nothing less than the very best in vibrance, quality, and longevity. Soft and subtle or bright and bold – it's completely up to you! If you aren't sure which cut or color is right for you, our visionary stylists are happy to share their expertise. We'll take a closer look at your face shape, skin tone, and more, then suggest a few options that would be perfect for you. Focal Point stylists are trained in a wide array of techniques, including ombre, balayage, highlights, and color corrections.
When you join the Focal Point family, you'll gain more than hair that simply looks good. We'll tap into our cutting-edge industry expertise to make sure that your hair is healthier than ever, nurturing it with precision-selected treatments, styling options, and more.
Searching for a professional place for men's haircuts in Phoenix? Don't waste your time and money at one of the Valley's countless chain salons, where you never quite know what you'll end up with. Instead, put yourself in good hands by scheduling a cut at Focal Point. We also offer hair color for men, which can be the perfect way to freshen up your style and turn heads. And don't assume that professional hair treatments are just for the ladies, because many of our male guests have discovered the best hair of their life, thanks to Focal Point treatments!
Hair Extensions
Whether your celebrity hair idols are the Kardashian sisters, the hottest new reality superstars, or any one of the countless Instagram beauty influencers, they all have one thing in common: gorgeously thick and flowing locks. It doesn't seem to matter if their hair is tied up in a messy bun, pulled back in a sporty ponytail, or curled to perfection, it always looks incredible – so, what's their secret?
As it turns out, just about any celebrity with fabulous hair has a not-so-secret weapon: hair extensions. At Focal Point Salon & Spa, we work with a diverse range of hair extension options to give you plenty of choices to consider. Depending on your hair health, goals, and desired look, your extension expert will recommend a method that's right for you.
Hair Regeneration
Embarrassed by your thinning hair, bald spots, or a receding hairline? When your hair is losing its healthy texture or thickness, it can age you well beyond your years – and make you feel like you're stuck on the sidelines of life.
Hair loss is one of the biggest beauty struggles anyone can endure, and both men and women encounter it far more regularly than you might expect. But you don't have to settle for lackluster locks, no matter what the cause behind your hair loss. Focal Point Salon & Spa is a leading provider of hair regeneration treatments in Phoenix, and we've helped countless guests restore their hair to its former glory.
The Focal Point Salon & Spa Difference
Focal Point is unlike any other Phoenix or Scottsdale salon because our signature approach always puts our guests first. Our goal has never been to sell as many products and services as possible; instead, we are here to create an incredible salon and spa experience for every individual that walks through our doors.
Every guest is unique, which is why our stylists take a tailored approach to enhancing the health and beauty of their hair. Your hair will feel as incredible as it looks, and your stylist will become the one and only person you trust with your lovely locks. We believe that you deserve nothing less than looking and feeling your best – and with our incredible range of services, we can help you get there.
Make Focal Point Your Hair Experts
Focal Point Salon & Spa is proud to offer the best in modern hair styling and care at our exquisite full-service salon. Our hair salon is conveniently located in Phoenix/North Scottsdale between Desert Ridge and Grayhawk, in the Whole Foods shopping center.
Why not make your healthy, beautiful hair your newest favorite feature? With gorgeously shiny, smooth, and luscious locks, you can enjoy a boost in confidence that will make you feel ready to take on the world.
Schedule your first appointment at the Focal Point Salon & Spa to begin your journey to stunning, incredibly healthy hair today.