It's no secret that the right stylist can completely change how you look and feel, especially if you're ready to whip your lifeless locks into shape with hair extensions. With extensions, you can revamp your look with added length and fabulous volume – talk about a total transformation!
Whether you want runway-worthy volume or length that even a mermaid would envy (or both!), extensions can be your best beauty secret. In fact, if there's a celebrity out there that you consider #hairgoals, the odds are pretty high that they have the advantage of a great set of extensions.
But before you jump into the next open chair at the salon, there are a few things you should know about extensions, including how long they last. Understanding precisely what to expect, and how to maximize the longevity of your extensions, will ensure that you get the most out of this must-have hair hack.
How Long Do Hair Extensions Last?
Hands down, the most common question we hear about hair extensions focuses on how long they last. There are plenty of factors at play, but one thing is for certain: your hair extensions' longevity will depend on which type you choose.
The material used to make the hair extensions you choose is easily the most high-impact factor when it comes to how long they'll last. Synthetic vs. human hair extensions is typically the first choice you'll have to make, with synthetic usually being less expensive (but lasting a shorter span of time) than most human hair varieties. There are a few options for high-quality synthetic extensions, like Kanekalon and Toyokalon, but human hair extensions are generally the best bet. In fact, human hair extensions last about three times longer than synthetic – so when you do the math, they're a much better value!
Our Fusion extensions use an innovative keratin bonding method to attach the extensions to your natural hair and last up to four months. Flat-tip extensions and hand-tied wefts, which tap into the no-slip power of microbeads, will also be fabulously fresh for three to four months. Tape-in hair extensions, which are one of the most well-known options, have a life of up to eight weeks.
Of course, all of this depends on how well you're taking care of your extensions. Choosing extensions-safe shampoo and condition, brushing your extensions regularly, and taking extra care when styling is key. To help you make sure you have everything you need to keep your extensions in beautiful shape, Focal Point provides a take-home care kit with every new extension installation. We want you to love your hair long after you leave our salon, so we made it a priority to educate every one of our guests.
Anytime you make a big beauty move, whether it's investing in hair extensions, the latest fillers, or professional-grade facials, you want to make sure you're getting your money's worth – we totally get it! That's why we want to make sure that our clients are perfectly paired with the hair extension type that will live up to their expectations, especially when it comes to how long the extensions will last.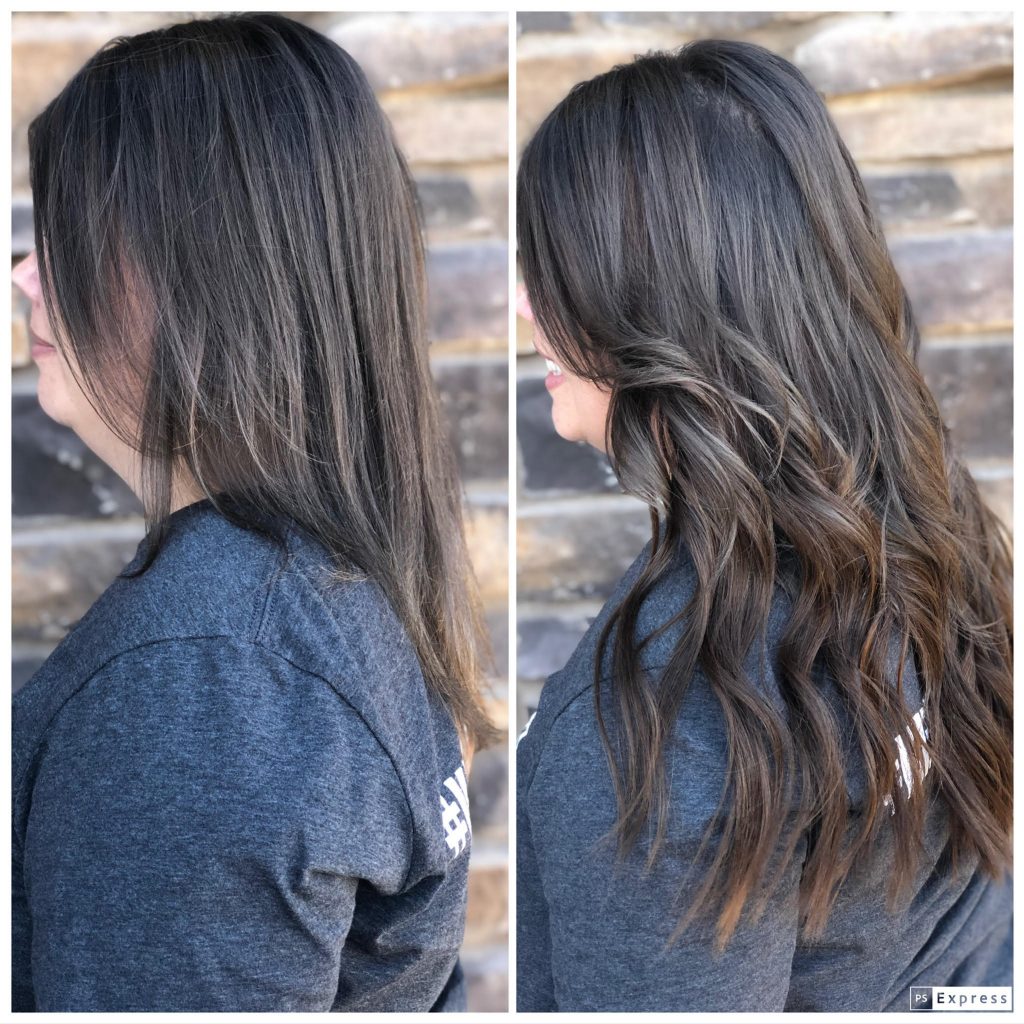 Other Important Things to Know About Hair Extensions
Still weighing your options and deciding if extensions are right for you? Here's some more information to help you make the right call.
How often do hair extensions need to be replaced?
Depending on the type of hair extensions you choose, your stylist can usually reuse a set between two and three times. These "move up" appointments will usually be pretty quick, and your stylist will literally move the extensions up to the correct position. The actual process will vary based on the method of hair extensions you have. When you stop by for a "move up," we recommend visiting our on-site Head Spa for a deep-cleaning treatment. Not only do the treatments detoxify your scalp, eliminate build-up, and keep your natural hair healthy and strong, but they also give you the perfect opportunity to relax – we don't know about you, but we never say no to some spa time!
After two or three "move up" appointments, it's time to replace your extensions to keep them looking full and fresh. Even the best hair extensions have to replaced, especially if you want to avoid sad, scraggly strands. How often you have to replace extensions comes down to which kind you have: Fusion extensions (every 3-4 months), tape-in hair extensions (4-8 weeks), or hand-tied extensions (3-4 months).
How long do permanent hair extensions last?
One of the most common questions that our Scottsdale hair extension specialists hear is, "can you get permanent hair extensions?" Technically, the answer is yes – but "permanent" might not mean what you think it does. Hair extensions that are referred to as "permanent" are those that can continuously work for several months, meaning that you don't have to put them on and take them off regularly.
If you have a full head of fusion extensions, tape-ins, flat tip hair extensions, or hand-tied wefts, you have permanent hair extensions. But if you're enhancing your everyday look with small sections of tape-ins for volume or even clip-ins for special occasions, you don't. On average, you can enjoy up to 4 months with permanent extensions before having to replace with a new set.
Will hair extensions damage my hair?
When you come to The Salon and Spa at Focal Point, right away, you'll realize that we aren't like other Scottsdale salons. Our top priority is your hair health – so if your hair can't withstand extensions without serious damage, we're going to tell you honestly. Together, we'll figure out a plan to move forward towards the hair of your dreams.
If you're dealing with hair that's been wrecked by a subpar stylist or bad extensions, Focal Point Salon & Spa can be your hair repair dream team. Our Hair Regeneration services will help restore significant thinning or loss with a series of advanced methods, prepping a solid foundation for future extensions. If other salons have told you that they won't do extensions on your hair, it's not time to give up just yet… The Salon and Spa at Focal Point Salon & Spa is here for you.
Already living and loving the hair extension life? You already know that keeping your natural hair healthy should be a priority, but hair care can be tough with extensions. But there is someone that can make all of that happen for you – that's right, your go-to hair experts at Focal Point. Our Head Spa is the first of its kind in the country, and a first for Arizona salons. With a visit to the Head Spa, you can eliminate toxins from your scalp, get rid of product build-up, and rebalance your skin to set the stage for thicker, healthier hair regrowth and an ideal base for extensions.
Focal Point Salon and Spa : Your Phoenix & Scottsdale Hair Extension Experts
Sure, other Scottsdale salons might try to draw you in with swanky social media posts, too-good-to-be-true prices, or promises to make extensions work for anybody – but they just can't measure up to the Salon and Spa at Focal Point.
Stop feeling hair envy and start turning heads with your own head of gorgeously full, healthy hair now. Schedule your appointment for hair extensions in Scottsdale and Phoenix at Focal Point Salon & Spa today!
Have Questions? Let us help